Core Project
Construction of a Disaster Prevention / Watching System with Community Resources and Information Technology
Keishin INABA | Professor, Graduate School of Human Sciences
In a modern society, characterized by a number of factors such as a declining birthrate, depopulation of rural areas, frequent disasters, and other problems (e.g., crime) involving the elderly and children, it is imperative to build a society that is resilient to emergency situations while also constructing a watching/support system for periods of calm.
This project aims to develop independent electronic communications networks for regional communities by connecting residents' associations and regional resources, such as shrines, temples, and churches, as well as elementary and junior high schools nationwide. Additionally, we intend to utilize and develop information technology to respond to: (1) natural disasters, (2) incidents involving wandering elderly people with dementia and child kidnappings, and (3) harmful animals, such as monkeys, bears, wild boars, and crows.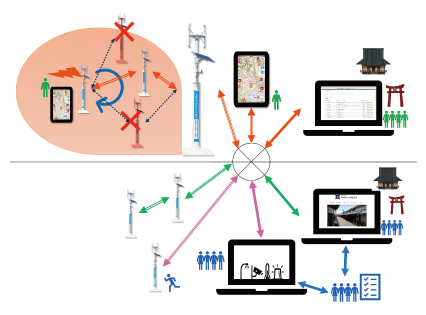 Facilitating Dialogue for Peace and Co-existence
Akihisa MATSUNO | Professor, Osaka School of International Public Policy
The project organizes research and surveys that will contribute to conflict resolution and helps facilitate dialogue upon request. A conflict occurs over territories, resources, political power or the choice of political systems, often with ethnicity or religion as a related factor. Research is conducted to identify causes and to analyze the conditions, and then to find clues for settlement. Based on such research, the project will support dialogue. More concretely it builds confidence among the parties and stakeholders by facilitating mutual communication at all levels. Dialogue will be facilitated by mobilizing expert knowledge, analytical capacity, and human networks of the university in collaboration with various parties. With confidence built in such a way, first track negotiations will become possible, and they will lead to a peace agreement. The project will contribute to the building of a base for peace making.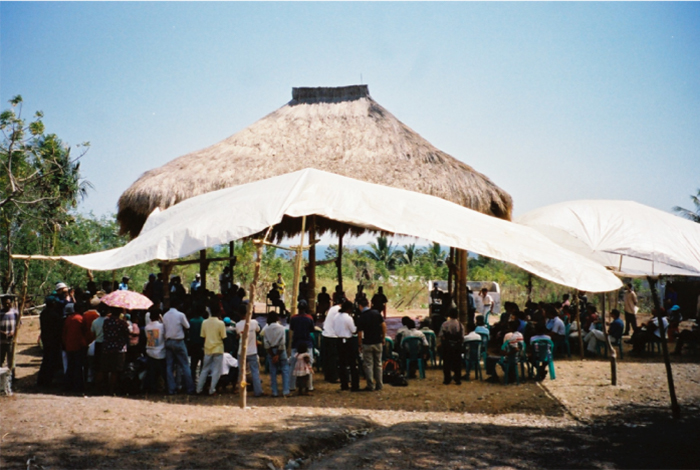 Project to Promote Environmental Sustainability through Improvements of SDGs Indicators
Noriko OKUBO | Professor, Graduate School of Law and Politics
This project focuses on qualitative SDGs targets and through the proposals to improve them, it aims to promote the sustainability. As the background of the project, the project leader has already implemented 2 research projects networking researchers, lawyers, judges, NGOs, and UN staffs. Activating such network, this project will propose the way of future-designing for Japanese municipalities focusing on targets for inclusiveness and partnerships. And, at the same time, it will collect and absorb outcomes of overseas researches, and promote Japan model in both domestic and international scenes through our network.
Measuring Educational Effects
Fumio OHTAKE | Professor, Graduate School of Economics
"The Third Basic Plan for the Promotion of Education" shows social change after 2030, and shows what Japan's education policy should be. Two contemporary phenomena inform considerations for educational policy that respond to the times of this era. On the technological front, the rapid development of technological innovations such as artificial intelligence (AI) and utilization of big data is moving Japan towards a super smart society (Society 5.0). On the demographic side, rising life expectancy means that Japan is also in the age where several people live up to 100 years old. These phenomena represent a significant transformation of society. In order to respond to this great transformation of society, play an active role in it and live a good life, ability is crucial.
Education is therefore an important means to acquire such ability. Under these circumstances, different educational approaches are required. Consequently, various educational efforts are being conducted at various levels such as national, regional, and municipal levels. Schools and teachers are also included in such efforts. Among the various efforts, it is necessary to show objective evidence on what kind of education effort is effective and what needs to be incorporated into new policies.
In fact, "The Third Basic Plan for the Promotion of Education" clearly states that an educational policy based on objective evidence should be implemented. However, in actual education, data is often not organized in such a way as to measure the effectiveness of education. Moreover, to measure the effects of education, it is important to measure not only short-term effects but also long-term effects. Such data, however, hardly exists. Therefore, it is necessary for researchers themselves to investigate and to combine existing information and analyze it.
In this project, we use several approaches to analyze the effects of education. First, in cooperation with the local government, we organize data related to education and measure the effectiveness of school education. Specifically, in cooperation with Amagasaki City and Nara City, we conduct data collection and analysis. Second, we surveyed the characteristics of education that people have received in the past and their current situation, and clarified what long-term impact the educational efforts on those people have.
Project for development of integrated health-care system based on behavioral science
Kei Hirai | Associate Professor, Graduate School of Human Sciences
Coming soon.
Creation of Super-Aging Society encouraging Respect for Individual Views on the End-of-Life Good and Honorable Death and supporting Personal Autonomy in Health Care
Shin-ich SATO | Professor, Graduate School of Human Sciences
Aim: The realization of a super-aged society that supports the cultivation of a diverse view of life and death for each and every person and their health autonomy
Outline: Through Osaka University's cross-disciplinary research on dementia, we have been able to cultivate networks with neighboring local authorities, regional medical care, public health/welfare participants, and residents. We will continue to develop activities to empower every person living in a super-aged society with diverse views on life and death. At the same time, we intend to revitalize societal resources as a regional hub. The objectives of this endeavor are:
Analyze data, such as medical checkups, of the people of Osaka Prefecture (approximately 5,000,000 x 5 years) and scientifically support the administrative decision-making, self-help of residents, and the positions of people (experts / non-experts) that provide all types of care.
Develop philosophical cafés in all regions for residents and practitioners of community activities to discuss and raise fundamental questions on an ongoing basis to cultivate diverse views on life and death.
Promote a "dementia-friendly library" as a model case of an activity that increases the value of existing regional resources, aimed at fostering an inclusive community.
Creating a model for sustainable urban society based on the field study of informal settlements in Africa
Michihiro KITA | Professor, Graduate School of Engineering
Improvement of slums, which constitute settlements that have irregular land tenure, poor housing conditions and inadequate basic infrastructure services such as water and sanitation, has been a global issue since the 1960s. Developing countries in Africa, the Middle East, South and Southeast Asia, and Latin America continue to face serious challenges in relation to the pervasiveness and proliferation of slums. Conventional methods such as evictions and relocations, sites and services, public housing, and redevelopment have not provided permanent solutions to the challenge of slums. In view of this, we hypothesized that slum improvement requires holistic approaches that include the design and rebuilding of social and economic systems that can enhance the capacity of slum residents to engage, initiate, and manage the process of developing their living environment in collaboration with civil society and local government.
Our project is geographically situated in Accra, the capital of Ghana in the West Africa sub-region. For this project, we organized a cross-sectional project team consisting of cultural anthropologists including Professor Eisei Kurimoto and members specializing in geography, international public policy, linguistics, urban planning, and environmental energy. Accra is considered as a joint research and implementation field. For the purposes of this project, members conduct research activities in multiple fields. These survey activities are mutually reinforced and harmonized to support complementarities. By doing so, we examine hypotheses and find common solutions to complex socio-spatial and economic problems.
There are about 78 officially identified slum communities in Accra. These 78 slum communities are home to approximately 38.4% of the population of Accra. Although the government has in recent years promulgated a promising urban policy action plan and urban housing policy, experimental projects at the local level are seemingly rare or non-existence. Thus, several slum areas are constantly faced with severe challenges as such poverty, unemployment, overcrowded housing, poor sanitation and water supply, disasters (especially floods and fires), and disease outbreaks (e.g. cholera).
However, some slum communities possess organized social systems that support self-management and community-based improvement in conditions. A typical case is the indigenous quarter in La Dadekotopon district of Accra. Our previous survey revealed that the "La" area has a good self-sustaining system based on traditional system of social organization and community management. In this area, we are deciphering the socio-spatial structure, and the system of living environment management. We plan to continue to work with the residents of community to devise a collaborative and sustainable self-management model for community improvement. We hope to assist the community utilize existing potentials to gradually evolve into a sustainable urban socio-spatial model than can be scaled-up into other slum communities in city and region. Thus, we hope to adapt this social model to other areas based on their specific conditions and attributes.
Developing Communicative Competencies for Social Problem Solving
Goro YAMAZAKI | Associate Professor, Center for the Study of Co*Design
Most of the issues surrounding modern society arise from an intricate intertwining of various elements and contexts. Under highly complex and uncertain circumstances, the process of finding, identifying, and resolving issues requires broad expertise, oversight and generalization ability, and collaboration with diverse social actors. Therefore this project will develop communication skills in order to solve the highly-fragmented and complex social problems in the contemporary world. Through these activities, we will establish organic linkages among education, research and social practices, and create synergies by combining each achievement. Social issues do not always lead to a solution. For example, classic social issues such as discrimination, inequality and violence cannot be eradicated and resolved in the same sense as the eradication of smallpox. In society, each issue is inseparably linked with others. As a result, it often happens that issues cannot be unified, solving one issue gives rise to another, or one solution may not be recognized as a solution from another perspective, and so forth. However, in a recursive situation where the real risk is doing nothing, an approach that does not try to resolve issues has no positive meaning; most of the time, it simply maintains the status quo. While confronting these difficult situations related to the modern social structure and academic fields, this project promotes critical investigation in education, research and practice, and establishes a new platform for them. Project team members will focus on various social issues, in particular: population decline, the realization of a symbiotic society, and the changing forms of life under the impact of emerging science and technology. Each year, we will implement multiple projects in collaboration with various social actors. Through these activities, we will redefine the social implications of higher education, especially the humanities and social sciences, from the viewpoint of "communication". The results of this project will be fed back to a wide range of practical sites, and will be used to build an education and research platform that is rooted in our daily lives.
Joint Project
Comparative research on sustainable food consumption and production: from the cases of food loss in Southeast Asian countries and Japan
Coming soon
Creating a Platform of Learning Design toward a Multicultural Local Community
Oh Song| Directer, Tabunka Flat Specified Nonprofit Corporation
Naho HOMMA| Professor, Center for the Study of Co*Design
Yukari Enoi| Professor, Center for Mirai Kyoso, Graduate School of Human Sciences
Osaka's Ikuno Ward has a large population of Zainichi Koreans living in Japan, and the largest Korean town in Japan is located in Tsuruhashi. In recent years, there has been a rapid increase in the number of so-called "newcomers" such as those from Vietnam, and one in five of the ward's residents are foreign nationals, the highest percentage (21%) of any urban area in Japan, with people from 66 countries and regions. Moreover, many households in Ikuno Ward have financial difficulties, and the schooling support rate is more than double the national rate. There is an urgent need to establish a system to stabilize the education and living conditions of families with diverse cultural backgrounds, including children with foreign roots.
In June 2019, a citizen-led platform was launched in Ikuno Ward to tackle these issues by building a comprehensive and multifaceted support base with diversity at the heart of community development. Under the mission of the SDGs "No one left behind," the project is a collaboration of various actors such as NPOs, citizens, government, companies, and universities, and consists of three projects: "Creation of a center," "multicultural events planning" and "surveys and proposals." In the "Creation of a Center" project, preparations are underway to establish a multicultural center in response to the draft plan for utilizing the former elementary school site.
Our project aims to work together with the local community to create the center for the local multicultural community in Ikuno. For example, we will promote the design of the learning environment through collaborative learning projects and program development, community building, and the launch of an educational consortium.
Symbiosis is the body and time that has always-already been lived by us. Ikuno – its history and its climate – in which symbiosis has been nurtured in various ways is the soil where the campus of learning truly takes root as a horizon of the unique backgrounds of each individual. In an age where rationalization and competition divide us, we must restore the form of education that should be ours, with children living in the present, not in the future. For this purpose, we will engage in dialogue and creative activities across various genres to loosen the power that hangs over us and to reweave our knowledge with the threads of "connection" that will be entwined by making us aware of our "differences."